Caribbean Flamingo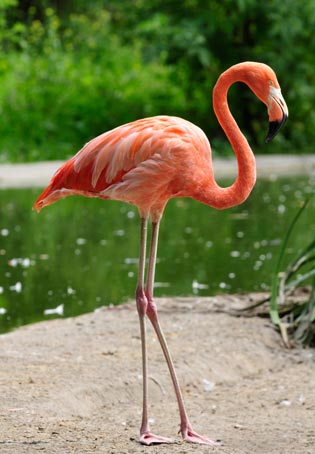 The Caribbean Flamingo (Phoenicopterus ruber), also called American flamingo, is found in the Caribbean nations, west of South America and the Galapagos. Some have even been sighted in Florida, United States, even though their primary breeding grounds are in the Galapagos.
This species in particular is a lover of mudflats, saline lagoons, shallow coastal waters, and inland lakes.
They are just as tall as the Chilean and greater flamingo, reaching heights of about 1.4 m. But unlike the greater flamingo (which is paler), it is bright pink, almost rosy with the wings having shades of red.
Later on, they obtain the crimson and vermillion colors because of their alpha en beta carotenoid pigmented diets. Their legs are also entirely pink with the bill also pink and white.
This species is the most brightly colored of all the species. They stand between 1.2 and 1.4 meters in height, the wingspan is approximately 1.5 m, and they can weigh from 2.2 up to 3.2 kg.
For a long time, the Greater and the Caribbean flamingos were considered two subspecies of the same species. Nowadays they are considered to be 2 different species.