Behaviour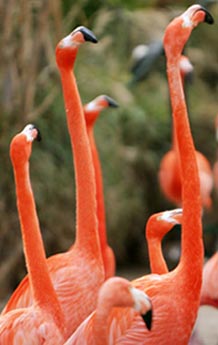 Flamingos have several ritual displays that they perform in groups. If you get to see these rituals, you will be very impressed. Head-flagging is performed by stretching their neck and holding the head high while turning it rhythmically from side to side.
The wing salute is done with the neck outstretched and the tail cocked so as to show off contrasting colors.
The birds can also be seen marching in large and closely packed flocks, as one, then switching direction abruptly. Their coordination is so precise that you will be stunned.
Flamingos live in large flocks that can have several thousand birds. They frequent shallow bays, tidal swamps, and lagoons where they feed on algae, larvae, and adult forms of small insects, crustaceans, mollusks, and small fishes.
The attractive pink plumage of flamingo is a result of the pigments of algae they consume in their diets. Generally, after digestion and metabolism, most of the metabolites move to the feathers where they are eventually excreted.
The nature of the algae that are consumed determines the hue or saturation of the pink color of the feather. Flamingos that are darker in color are mostly feeding on blue green algae, which have the red coloring nutrient called carotene. Those feeding on zooplanktons, however, are much lighter in color because they lack this natural compound.
Flamingos that are kept in zoos are fed with a special pellet diet that is specially made for them. It contains all the nutrients they need. It is mixed in with their water, so that they can feed on it the same way they do in the wild. More information can be found on the Flamingos in Captivity pages of this website.