Breeding in Nature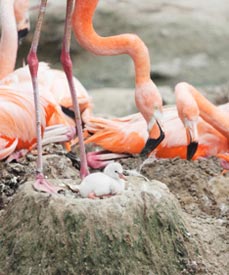 Flamingos characteristically live and feed in groups called flocks. Their large numbers enable some of them to look out for predators while the rest have their heads down in the mud for feeding.
Even though they breed in flocks, the male and female flamingos pair up and form strong bonds. Each pair is responsible for finding a suitable place to build a nest, mate, and take care of their eggs and young ones when they hatch.
The flamingos reach sexual maturity after three years.
Flamingos use a combination of mating rituals and pairing of monogamous partnerships.
These rituals include neck raising, wing flapping, and head flagging. Part of the reason for this is to synchronize nesting, laying of eggs, and subsequent chick rearing.
After paring, the two parents will play an equal role in building the nest where the egg is laid. The nest keeps the egg safe from being washed away by water and also provides an environment conducive for the hatchlings to stay in. Normally, the nest is defended aggressively because conflicts are common.
When the chick hatches, it is fed just like other birds by depositing food into its back throat.
Flamingos also produce bird milk that comes from the glands that line the upper esophagus. The food has immune properties as well as being rich in fats and proteins.
After about a week, the chick is capable of moving around and can join its age group in their flocks.
These groupings are essential because they provide protection against predators. The groups are also where they are going to meet partners for future mating.