Chilean Flamingo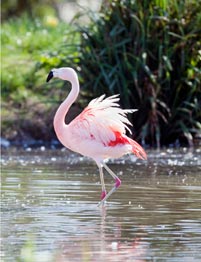 The Chilean Flamingo (Phoenicopterus chilensis) is a smaller species inhabiting temperate South America, from central Peru through the Andes to Tierra del Fuego.
It looks similar to the Greater flamingo but is slightly smaller. It grows up to 130 cm of height.
Its breeding grounds are mainly in South America.
Typically for the Chilean flamingo are their legs, they are grey with a red "knee" which is actually their heel.
The tip of the bill is black, and the base is very pale pink.