General Information
The prehistory of the flamingos (or Phoenicopteriformes) is far better research than that of their systematic affinities.
They are considered to be of the oldest bird families because of discoveries of fossils of primitive forms that date back 50 million years.
It is possible they were spread more widely across the globe in older times, possibly including North America, Europe, and Australia.
The flamingo was first described as a species in 1758, by the famous Swedish naturalist Carl von Linneas.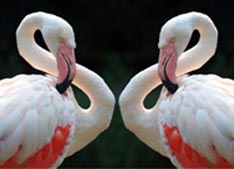 Taxonomically, opinions about the flamingo vary. This is due to character similarities they share with several other orders of birds.
Historically, flamingos have been placed within the Orders Ciconiiformes (herons, storks), and Anseriformes (swans, geese and ducks).
Moreover, recent DNA studies have found a strong relationship between flamingos and grebes (Podicipediformes). Howevery, it is recognized by many taxonomists that they should be classified in their own order; Phoenicopteriformes.
Flamingo's have been proven to live up to 50 years in captivity, which is significantly longer than the 25 to 30 years they live in the wild. This shows that with the right care, flamingos in captivity actually enjoy a better life.