Greater Flamingo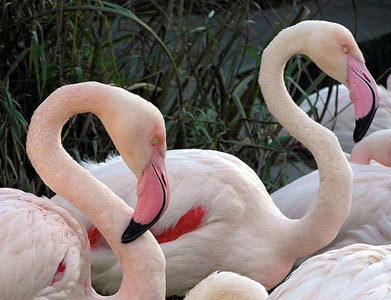 The Greater Flamingo (Phoenicopterus roseus) is the widely spread through Asia, Africa and many regions of southern and central Europe.
It breeds in southern France and southern Spain but it is native to the Caspian Sea and Persian Gulf area of Asia (including Northwest India), and to some widely separated parts of Africa.
It is also the largest and the tallest of the flamingo species, with a mature adult male weighing up to 4 kg. It can grow up to a height of 1.5 m. The wingspan is 1.6 m.
It is mainly characterized by pinkish white plumage with red and black spots on the secondary feathers of wings.
For a long time, the Greater and the American flamingos were considered two subspecies of the same species. Nowadays they are considered to be 2 different species.