How to breed
For flamingos in captivity, the reproductive levels are usually insufficient to achieve self-sustaining populations. Therefore, successful reproductive programs are necessary for captive populations.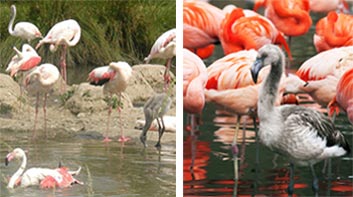 The size of the flock will influence how the flamingos will breed. Larger flocks usually breed more frequently than smaller ones.
Flamingos have ritualized displays that enable them to have synchronous breeding, and this is one aspect of their life that you should not interfere with.
The flocks should have equal sex ratios since flamingos form male-female pairs for mating and rearing young ones. Unpaired flamingos disturb the breeding flock and even destroy eggs.
It is remarkable that flamingos in extremely large enclosure have less reproduction than flamingos kept in smaller enclosures; the density of the flock seems to be an important factor in stimulation of breeding activities.