How to transport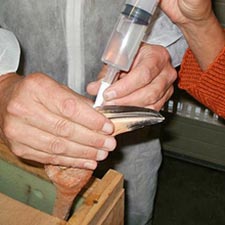 Flamingos are delicate birds. Perhaps the most delicate parts of their bodies are their long legs and feet.
To transport flamingos successfully, it is necessary to put into consideration the following factors:
The people who handle the birds with packing should be experts in keeping and handling flamingos.
The construction of appropriate boxes or crates.
The duration of the trips, either by air or by road.
The boxes or crates prepared to transport the flamingos should be as comfortable as possible, according to the size of the birds, their shape, and their behavior.
The container should provide comfort to the birds, and it is necessary that there is enough space for ease of movement.
The crates should be covered on the inside with a soft material, to prevent the bird from being injured by the walls of the crate.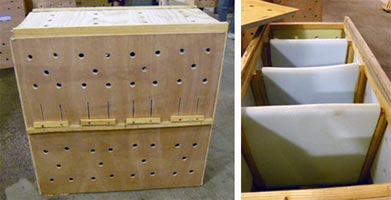 In addition, a support such as a hammock made of soft material could be fixed into the crate to enable the flamingo rest with their legs passing through the slings made in the support.
The slings should be made in such a way that there is no damage to the thin skin of their legs by friction.
In this way the flamingos are transported standing.
It is also important to consider the duration of the transportation. In case of long distances, it would be necessary to stop in an adequate place to leave the birds to drink water, feed, and stretch their legs and wings.
However, to unpack and catch again can provide extra stress; specialists prefer to give the flamingos food and water with a syringe in the esophagus. However for this action special skill is necessary.