Lesser Flamingo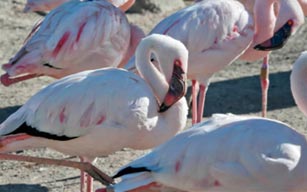 The Lesser Flamingo (Phoeniconaias minor) inhabits the East and South side of Africa, Madagascar, and North West India, breeding in saltwater lagoons and brackish lakes.
This species is the smallest of the flamingos, standing at 80 cm and weighing only 2.5 Kg.
Its wingspan ranges from 140 to 150 cm.
The entire bill is dark red, almost black, all the way to the eye. They are also pinkish white in color just as their larger counterparts.
The colonies of this species can reach one million pairs in numbers.