What to feed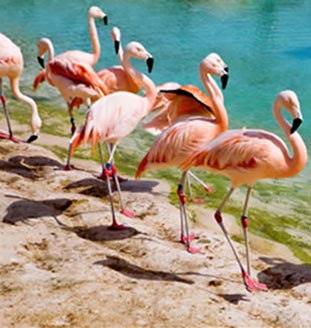 There has been a growing experience in feeding flamingos found in enclosures.
In the past, the zoos of the world prepared their own diets based on grains, vegetables, seafood, bread, and some commercial products, mixed together using formulas, and additives such as vitamins and minerals.
There are still many zoos that prepare their own formulas to feed the flamingos and other birds.
Later on, different commercial products emerged in form of pellets. They included a variety of nutrients that made it easier to feed the birds; these pellets already include carotenes to keep the flamingos in a red color. These pellets give the challenges to preserve the striking colors of the flamingos.
This commercial food is easy to provide with some water in bowls and does not need any additions.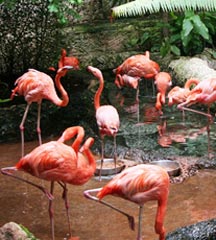 Other bird-keepers prefer to offer grain-based diets; they contain 20 to 40 per cent protein and have been developed using the nutrient requirements of poultry and duck species.
These also have been proven to be highly successful for their growth, maintenance, and reproduction.
You can add a separate carotene powder to these chicken-pellets to keep the flamingos red.
An enclosure maintaining a large group of flamingos should have plenty feeding areas away from the pool and main water source.
The feeding area should also allow access from all areas to prevent jostling, which is why a round design is recommended.